MOBIO booth No. : North facility 2nd floor 166
MAKINO MFG. CO., LTD.
Product line
Mill (cutter, crusher, pulverizer, fine pulverizer)
Classifier (sifter, separator, fine separator)
Mixer
Description of business
Grinding, Milling, Pulverizing equipments and engineering

MAKINO is a pulverizer manufacturer founded in 1926. It manufactures various types of mills, from crushers to crush fist-size items to fine pulverizers to produce particles up to about 20 microns.
MAKINO also manufactures classifiers (sifter and separator) and mixers.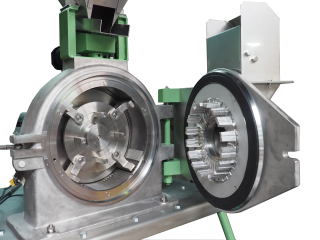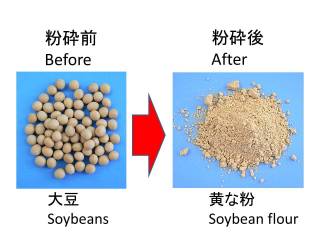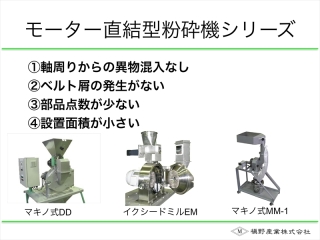 Products and Technologies
Best seller by beating and crushing!
Pulverizer Makino-type DD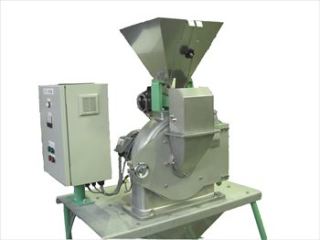 ● Well-established general-purpose machine

A MAKINO screen type pulverizer has been in production since 1926, with minor changes. The pulverizer responds to meet the need to produce a large volume of powder by beating and pulverizing raw materials.

It smashes soybeans to make soy bean flour, wood to wood powder, wheat to flour and grinds spices such as peppers, feeds, and chemicals as well.
Versatile and high-performance for mass processing in a short time by pulverizing and milling!
Pulverizer Makino-type DW / Twin chamber type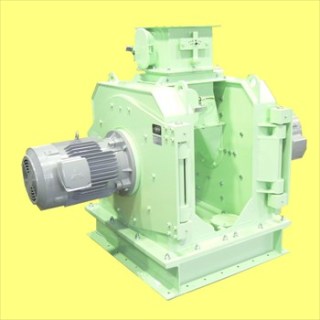 ●To pulverize
- Grains, dried plants/vegetables, sugar, salt, seaweed, cocoa, seasonings
- Resins, substrates, glass, aluminum, dyes, wood, etc.

●Structure
1) Raw materials are loaded from the upper supply port and distributed evenly by dampers into the left and right pulverizing chambers.
2) Items are pulverized by a rotating piece and a fixed piece that rotate at high speed in the pulverizing chamber.
3) Items are milled and discharged until they become the hole diameter of the screen or less.

● Features
1) Large amount processing with twin chamber
2) Directly connected to the motor, compact, 22 kw x 2 units, 30 kw x 2 units, high speed milling with 2 types
Screen-less high speed fine pulverizer with two opposing pin disks
Exceed mill(EM-1A)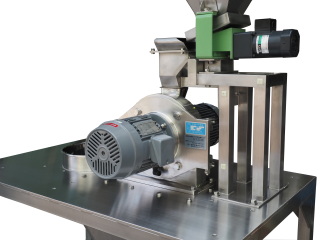 ●To pulverize
- Carbon black, battery materials, fluorescent materials, metal powder, ceramics
- Tea leaves, spices, food additives, pharmaceuticals, etc.

● Features
1) Pulverizing and milling with extremely large impact force
2) The inside of the pulverizing plate is designed so that powder does not turn around, making it easy to clean the inside.
3) Processing time in the pulverizing chamber is short and heat sensitive materials can be pulverized.
4) Easy to change the rotation speed of the milling plate with the inverter.
5) It is possible to pulverize even oily substances and adherent substances.