CEO Nishiwaki has been widely known as a charismatic engineer in the printing industry since the corporate foundation and still keeps a watchful eye on technological trend to promote a 5 year plan and a 10 year plan.
--
Find out why and how presidents of MOBIO exhibitors have started
"INNOVATION and CHALLENGE" through the special interview.
No.37 is Mr. Nishiwaki of *** TECHNO ROLL CO., LTD. (Read more) ***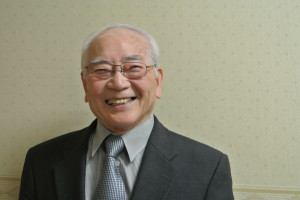 - Rubber and resin printing rollers, Dust removable rollers, Automatic roller cleaning device
●Corporate management as an independent corporation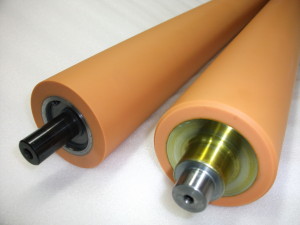 When synthetic rubber rollers were industry standard, Techno Roll developed special compound resign rollers to provide superior print-ability.
Nishiwaki founded the Techno Roll in 1980. Since he had developed new technologies for 20 years as an engineer in the printing industry, his name was well known to the industry people worldwide. That is why he was asked to manufacture the high grade resin roller by an US corporation for uprising printing method even as the start-up corporate.
His business principle has been not to become a subcontractor. Nishiwaki said, "SMEs tend to take large orders from the specific LME without self-development. We took a different business approach to be independent, without any restriction from large companies, made every possible effort to establish own distribution network. Techno Roll must live up with high quality." (note: LME is Large Manufacturing Enterprise)
So when Nishiwaki was requested to develop and supply components for a color copy machine, he declined its offer, although most of SMEs could willingly accept the offer to assure business stability. "On top of parts development we needed to accept mass production for the one LME. It would totally change our production capacity, schedule and human resources to respond to possible frequent design changes. It could cause inconveniences to our existing customers," Nishiwaki explained the reason.
●Break a stereotype view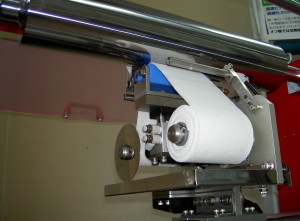 ARC-II can clean rollers and belts automatically, reducing dangerous work of cleaning rollers and machine downtime substantially.
Even in a business depression Techno Roll has taken positive countermeasures backed by the problem solving ability created through cross technical field study.
Nishiwaki said, "Rubber rollers are said to be handled only by a chemist, however it's not sufficient. We need to provide customers with our solution proposal by developing printing devices to be equipped with our rollers, control system of printing technology and device maintenance skills. At Techno Roll collaboration is prevailing among chemists, machine designers, computer system engineers and machine maintenance specialists and other technical field. This cross category work is exceptional activity at SMEs."
●"High quality comes first" and "Thinking out of the box"
The Dust Hunter, An Automatic Continuous Dust Removal Device that utilizes the "Clean Dash" sticky rubber roller developed by Techno Roll.
Techno Roll has been growing with their sincere respond to request from customers and expanded exclusive products in and out of printing field. They are exporting technologies to 14 countries and have received "Excellent Company of OSAKA" award from Osaka Prefectural Government and other certifications. Techno Roll took the different approach to the business, away from price competition, based on Quality First principle.
Nishiwaki always repeatedly requests his members to be creative and original. He himself takes the initiative all possible future plans, such as buying out the corporate and uplifting an age‐limit system for retirement. In 2014 Techno Roll will install the latest printing machines both at Osaka and Tokyo factories for in-house roller evaluation to accelerate roller quality improvement. Moreover he plans to invite partners from 14 countries to the "Licensee Meeting" and to review the state-of-the-art technologies.
Thinking out of the box and targeting to develop the first technology or the first service program in the industry, Nishiwaki knows no boundaries in business development.
--
Interviewed on April 21, 2014