MOBIO booth No. : North facility 2nd floor 151
NISHINOMIYA CITY HALL
Product line
Enterprises aiming at manufacturing innovation
Enterprises seeking networking
Enterprises commended for technological strength
Description of business
Nishinomiya City boasts manufacturing SMEs with unique technologies, products, and other features. Nishinomiya City Hall supports SMEs in order to create new values through providing opportunities for new contacts and transactions to widen sales and establish networks.

Products and Technologies
TECH PRIZE winning SMEs with distinct technological capabilities

Outstanding technical strength and R&D power is commended by an expert panel. SME activities are supported via PR.
The past prize winners can be looked at the URL shown on the bottom of the page in Japanese.
Business match making for SMEs motivated to improve added value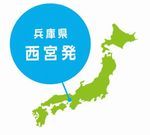 Last year, the City Hall published information about original technologies and services of enterprises motivated to improve added value; thus the city aimed at business matching making in the metropolitan area towards creation of new values.