MOBIO booth No. : North facility 2nd floor 162
CHIBA DIES CO., LTD.
Product line
Plastic gears
Metal gears
Gear molds
Description of business
Chiba Dies has focused solely on the production of gears since its foundation, and works on new technology and ideas with a consistent pioneering spirit. It has been a global leader in developing new products, such as CD machining tools, Chiballet, Nobusic gears, and micromachine gears, based on its high-precision and high-quality mold technology.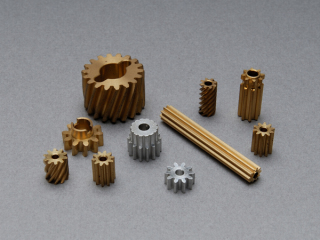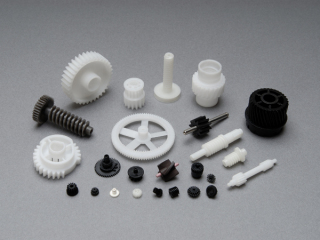 Products and Technologies
Large-scale creation of small gears. Made of plastics or metals.
Total gear manufacturer with several advanced production technologies
●CD processing that uses the advantages of cold drawing
 Production of precision gear with a linear cutting surface that does not cut the other gear
 Production of high-precision parts by cutting gear rods using a long-rod machining process
●SpeedTry: Rapid prototyping for injection molds
 Rapid prototyping of quality plastic gears that are on par with mass production
 Delivery of limit-free, high-precision gear design in as little as three days
●Plastic Gear System Research Center (PGS Research Center)
 Research on tribology of plastic gears that are rare even worldwide
 Using research results for the production of precision gears
Patented products! New plastic gears
Nobusic Gear: Low-noise, smooth rotation gear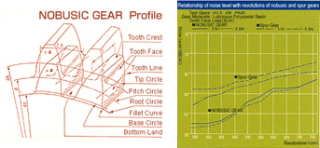 The Nobusic gear is a new plastic gear that consists of two spur gears that have been shifted a half pitch.
●Contact ratio doubled! New plastic gears with great potential
Chiba's plastic injection molded gears are bolstered by the excellent plastic material it uses, its high precision forming molds and progress in molding techniques. They are used in more and more electric appliances and automobiles.
●Stronger, quieter spur gears
Plastic gears have many unique characteristics, including light weight, low cost and the fact that they can be used without lubrication. Plastic gears have been used in various products under demanding conditions as the need for energy-saving products increases. Demand for stronger, more quiet gears, therefore, has also increased. It created a completely new type of plastic gear to answer that challenge.
Greatly improve durability! New plastic gear
UgicGEAR: Durable gear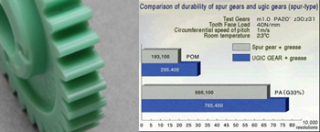 UgicGEAR is a new plastic gear that has a lubricating mechanism on the gear teeth.
●Durability can be improved significantly by controlling the oil deflector
This is a new plastic gear that has a lubricating mechanism on the gear teeth to keep the gear greased evenly. Durability can be improved by 10-60% by simply replacing the current gears with ugic gears.
■Applications
・Automobiles, OA equipment
Corporate Profile
Corporate name

CHIBA DIES CO., LTD.

Address

1-26-2 Takasago, Katsushika-ku,Tokyo, 125-0054, Japan

President

Eiju Chiba

Founded

1966

Phone

+81-48-997-6621

Fax

+81-48-997-6625

Company URL

English (http://www.chibadies.co.jp/en)

Japanese (http://www.chibadies.co.jp)

Capital

48,000,000 yen